Mark and Marijke Smith

 

"Real love," theologian Timothy Keller writes, "instinctively desires permanence."
Marijke and I have been on this mountainside place for 48 years. Every day we glean fresh insight from: a visit to a hillside vista, springtime tulips gleaming red and yellow in the sunlight, the combined white and umber of the winter's first snow, the mosaic of pattern and texture in fine stone and woodwork and wisdom gleaned from the back and forth banter with an old friend.
This is an accumulation of wealth made over a lifetime, each expanding experience building from the last because we see and hear more. Because of this we are unwilling to go elsewhere for that would forsake the bedrocks of wealth made over a lifetime.
Thus, being mortal, we seek the living permanence of an evolving and ongoing culture.We believe that the best way to do this is to create a transition from our two person community to a more expansive participatory community—one with shared democratic values, combined with an ecology that respects the land and the whole earth. We seek permanence by evolution, bringing fresh points of view, fresh skills and technologies, and fresh capital to this place that we love.
Liz Bicknell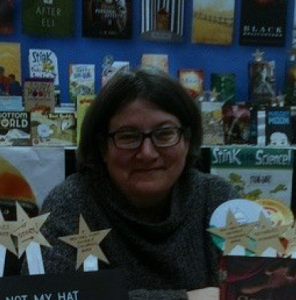 I live with my partner of 20 years, John Pijewski. He is a poet and investor and retired. I have two sons, Rowan Lockery and Corin Lockery. They are 26 and 23 respectively. Both are big musicians--trombone, guitar, vocals--and they live in Eugene, OR, and Durham, NC, respectively. I'm originally from the UK and have lived in the US for 34 years, in California, Oregon, and Massachusetts and I'm a liberal.
I've worked as Editorial Director at Candlewick Press in Somerville, MA, since January 1997 and in publishing since 1982. Candlewick Press is an award-winning independent children's books publisher with offices also in London and Sydney (Walker Books). We create books for children from birth to 18 years.
Most of my work is solitary--editing--but I do think it possible that the Commons could host some writing-related seminars or workshops that I could run. Additionally, I'd be happy to create a library onsite if there was interest.
I have purchased , Breidablick because I love its light and space, both of which are important to someone involved in the creative arts. I like being near to Mark and Marijke and yet having my privacy
Community and open space are of equal importance to me. I like solitude but I also like chatting to like-minded neighbors. I love the politics of Vermont, the proximity to Montpelier and Burlington, and the concept of co-housing, which is akin to the employee-owned business in which I work. I think I can contribute in decision-making, as I am comfortable with sharing my ideas and listening to the ideas of others. Coming to consensus is a key area in my work.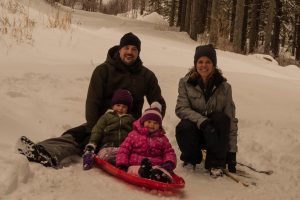 Kevin and Theresa.
We fit snugly into that treasured Vermont paradigm of urban refugees seeking a better life for their family. She writes novels and screenplays and I write for a popular local brand, so our professional lives are defined by research, imagination and constant revision. And as parents of two daughters—6 and 2—we live personal lives defined by education, safety and partnership.
Windekind Commons symbiotically balances our professional and personal lives due to its solitude, breathtaking beauty and the warmth of its people. A place that provides equal-opportunity respite from and inspiration to perform our work is an ideal home indeed.
The Commons features vast space that awaits adventure. It's close to Burlington and closer yet to top-flight schools and old family farms. The people of Huntington love their mountain town, from the fresh-air kids to the hardened old-timers who've done some of man's toughest work. We want to be part of a place and a community that we, too, can be proud of.
We do not belong to a cult or commune or survivalist compound—we are a group of like-minded people who want to build a thriving community that operates according to the patterns and processes of nature, commonly known as 'permaculture.' Windekind symbolizes our resistance to the pernicious symptoms of society's ills: living here represents our choice to focus on community, ingenuity and conservation instead of popular culture, identity politics and the 24-hour news cycle. In the face of great change, we welcome the chance to live by these values and to instill them in our kids.
Our girls are the reason we're embracing this life. We want them to learn from the forest, not the streets; to hear wind and birds and water and not horns and shouting and sirens; to see each day in pulsing green and not muted grey. We want them to conserve more than we did, waste less than we did, and learn self-sustenance instead of taking daily trips to the store. Windekind Commons gives our family the opportunity to live a more rewarding lifestyle, and apply the lessons we learn for the benefit of generations to come.
Our share of The Commons is our new family birthright. Apart from love and time, it is the greatest gift we could ever give our children.
Steve and Tanna Hood 
Members-
E Mail:
Steve Hood <Steve@alchemyandscience.com>
Phone:
 
Tanna was born in a rural village close to Hong Kong, emigrated to New Orleans when she was seven years old, moved to Boston with her family before she was ten and grew up to graduate from Boston Latin and an ivy league school. I was born into a military family, moving every third year with roots and an extended family in a very small mid-western farm town. Following a detour with the draft, I graduated from a small state college in the Massachusetts countryside and went on to wander in the Middle East, alternately digging and attending grad school.
Tanna and I met in Boston more than 30 years ago. We fell in love, married, and shared responsibilities for raising my kids with their mother in what's now referred to as a modern family. The kids grew up, moved away to go to school and to have their own adventures, and to our surprise came back. We're all now in VT again with our first grandson celebrating his sixth birthday next week.
We were both liberal arts students, committed to understanding ourselves and this world rather than following more practical paths, both somehow finding our way into business. We came to believe that businesses could in fact be creative, socially responsible good citizens, and successful when that was a novel idea, and we still hold it as a given.
Tanna and I subsequently invested our professional lives working in, growing, learning and leading businesses from small to large, all entrepreneurial, values based, and community centered.   The list isn't a long one and most have involved the same small band of entrepreneurs. Some have succeeded and some haven't, but we've learned from each one together.
When we came to Vermont more than 25 years ago, we knew that we were home almost immediately, and that's more our experience now than it was even then. Work takes me away for more than seventy five percent of my time, and while I appreciate the opportunities, Vermont is still at the center of our lives together.
It's also been our experience that Vermont is a shared oasis. Community, family, friends and acquaintances all bring experiences and perspectives as diverse as the landscape, and most share that appreciation and commitment. While it's not always possible, we find that values, consensus and compromise balance that diversity at work and at home.
The contradiction in our lives has been that given the above, we're private people. In spite of having been active in a number of companies where shared points of view, discussion and debate are core principles, we had never considered living in an intentional, co-housing community. And while we've gardened over the years, the principles of permaculture are new to us as well. That said, we're finding through experience, readings, and from our conversations with Mark and Marijke that this is in fact a model and lifestyle that's meaningful to us, and maybe more consistent with our values and lifestyle than we knew.
We appreciate the beauty of the Farm, we value community, we know that our decisions with home and lifestyle have a material impact on the world that we'll leave to the next generation.   We also recognize the challenges of a living community, and at the same time the benefits of a healthy community dynamic, supporting creative, diverse and sustainable homes and relationships.
We're expecting that the Farm will bring even more diverse, interesting, and healthy perspectives and experiences, and we're looking forward to it.