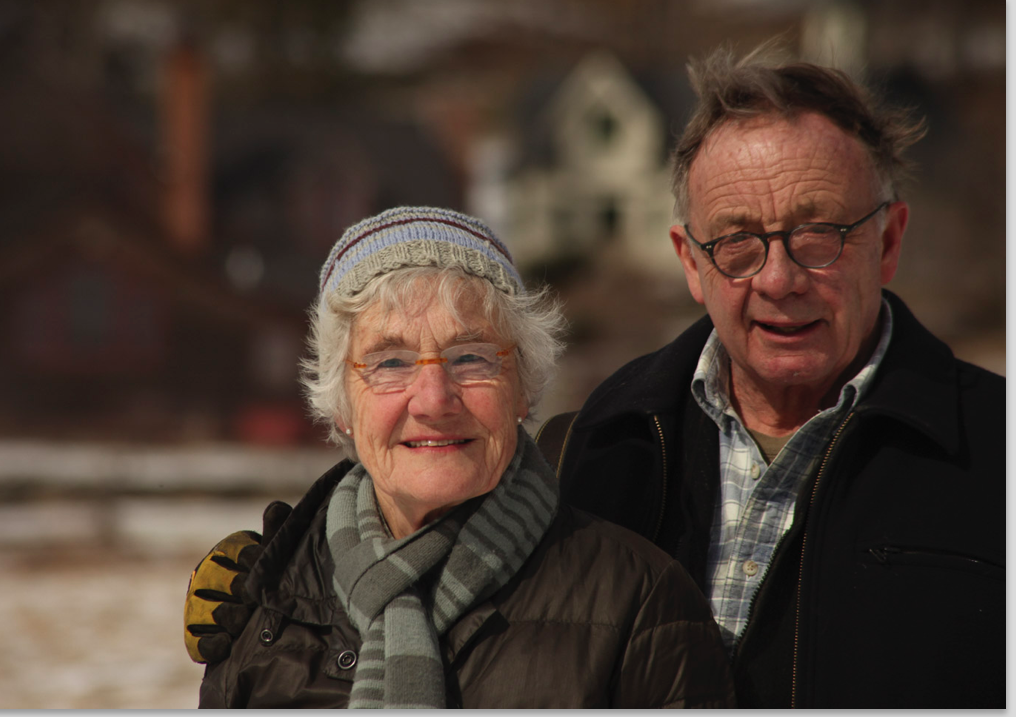 If you're interested in exploring the Commons further, we'd love to talk with you.
You can reach us at the following:
Email:
mark@windekindfarms.com
Phone:
(802) 434-4455
Mail:
Marijke & Mark Smith
1425 Bert White Rd.
Huntington, VT 05462
About Marijke & Mark
Marijke and I met in Brazil in 1968.  Marijke was a member of the Dutch Peace Corp, and I, a member of the American. I built roads through the jungle with my Brazilian colleagues, and Marijke organized schools working with a group of young teachers.  It was a very happy time for us together in Brazil and we decided to marry, a marriage that is now 51 years old that gets better every day.
We have three children, the oldest, Maja, lives in nearby Shelburne with her husband Ed Hamilton and their daughter Emma and son, Forrest. Our son Nils, lives on a portion of the farm that he owns and is currently a single parent with two sons - Willem and Shea. Our youngest daughter, Anneliesje, lives in nearby Vergennes with her husband, Peter Fried.
Marijke and I are both educated in the classical tradition of the liberal arts, and this has impacted on our love of the arts and nature and aided us in forming a long standing commitment to progressive social and environmental values.  Marijke has a master degree from the University of Vermont in Counseling while I have a master's degree from the University of Vermont in Educational Philosophy and a doctorate from Boston University in human and cognitive development.
We are life long learners with  broad and deep fields of interest in topics that range from the sublime and artsy to the everyday and concrete. Our academic adventures in philosophy and psychology weave into the practice of crafts at Windekind and elsewhere. We have acquired and developed skills and experience in  gardening, cooking, landscaping, permaculture design, wood working, black smithing, home decorating, masonry, stone work, and fine model building.
Marijke worked as a counselor in several public elementary schools concluding her career in  Huntington where she implemented a very effective family outreach program.  I taught a human development and learning theory course at the University of Vermont for eighteen years and later founded a magazine on historic railway preservation called Locomotive and Railway Preservation.  The magazine built a circulation of 16,000 readers and was later sold to a larger publisher.
A  majority of our work and learning experience has been derived from Windekind where Marijke and I have run the lodging and wedding business since 2000. In many respects the last 14 years have been culminating for us as we integrate our hospitality with our social values pertaining to creating community. At Windekind, seemingly, we  have had a monopoly on all the good people in the world who come to the farm.
I have been very involved with the community of Huntington serving on multiple boards including the town's  Selectboard,  School Board,  Development Review Board and Planning Commission. The Planning Commission is the most significant, and I have over twenty years of experience on that board which I have chaired three times .
We view our past as abundant and rich. Yet we believe that the best days are ahead given our maturity and life experience and the large number of deep friendships that grace our lives. By nature, we are optimists, who believe, in spite sometimes overwhelming evidence to the contrary, that the world gets better and better, and we are and have a responsibility to be part of that.
These views are the genesis of the Commons.