The Heart of the Common:
A Whole System Design Approach
Our design approaches—growing from years of experience with organic gardening—are ecological and based in a model of permaculture. We take our lead from the way nature works and consider how our actions fit and augment every element of the landscape. This means understanding and enhancing the natural connections between plants, soils, animals, water and humans. These approaches date back deep in the history of human ecology and have often been practiced as common sense.  More recently they have been highlighted and refined by writers like Christopher Alexander in the Pattern Language, and permaculture authors like Toby Hemenway in Gaia's Garden and Ben Falk in The Resilient Farm and Homestead—amongst many others.
 A Diverse Landscape, Ideal for Human Habitat.  
On the left side of the map you can see the cluster of homes that is the residential area of the Community.  In oder to increase sun light and capture the view of the Green Mountains we have located house sites  in a south facing bowl,  at the edge of the 13-acre meadow. Our neighborhood, like a traditional Vermont village, abuts productive agricultural land that can help feed our community and become a commercial venture.  
We have also woven common land throughout the residential area as a means of enhancing access to  public spaces while protecting private spaces. This highly divers yet well integrated neighborhood area is an exceptional feature of the Commons that melds public and private space is seldom found elsewhere. It has a huge potential for pathways, ponds, gardens, picnic areas and commercial out buildings that can house offices, studios and shop.   
On the lower right or eastern side of the map, two mountain streams cut up to a 100 feet down forming canyons filled with boulders and ledges in contrast to the relatively flat meadow and settled western portion of the Farm. Nordic and hiking trails weave their way through this untamed area. 
On the North East corner of the farm is a stand of maturing hardwoods and our ever flowing steams forming pools then cascading deep over the rocks and ledges below. 
This is a landscape of remarkable diversity and contrast hosting areas where humans can thrive and flourish on friendly land and soils, yet experience the bold and wild features of nature—very tame, livable and cozy yet robust and bold.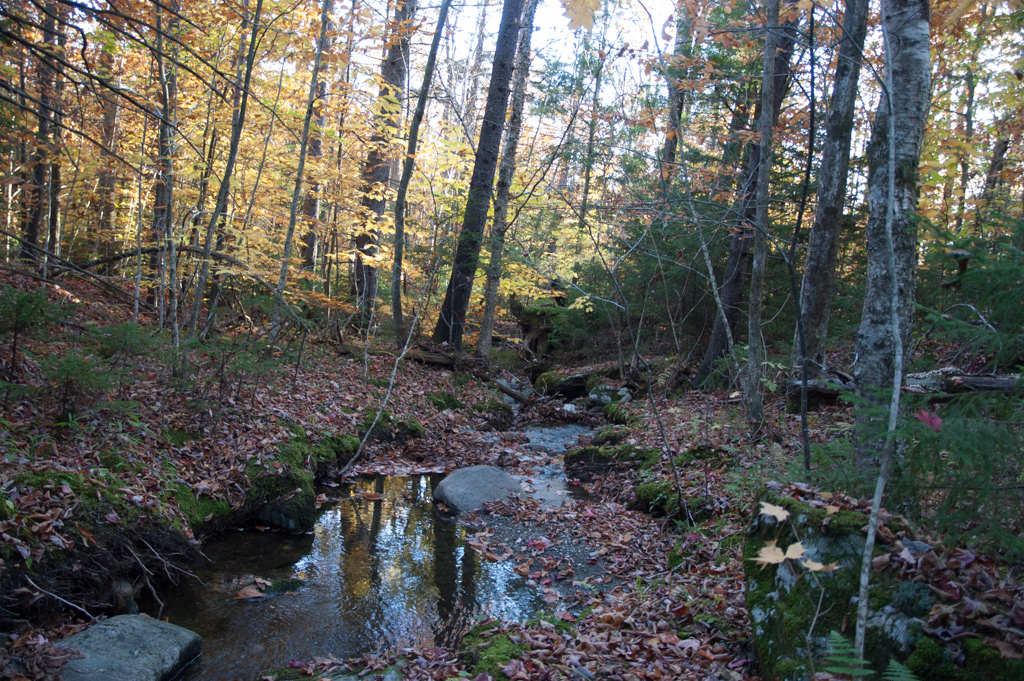 Designing for Cohesion, Connectivity and Harmony
Our goal is cohesion and connectivity between the many parts of the community, we seek harmony and amity between humans and humans and nature.  For example, the harmony and symmetry between one buildings and other buildings. So much to consider when we study the landscape: distance, color, slope, woodlands, open space and the myriad of other elements that define a space and areas in this diverse landscape.
We look at the balance between public spaces and private areas, where do the pathways go and where will people find privacy and solitude, where can they find the joy of being with others and dancing about. Because the field is rich with possibilities, the process is interesting, exciting and challenging. As new members sign on they join in with their ideas and aspirations.
We have tested our design a hundred times, often walking with others and making observations, taking notes and experimenting and testing our assumptions. We look at how a view works and our options to change and enhance it. We study where will people walk and why, how gardens or a pond or a lawn can be located. Or, in many cases, we just leave an area untouched under the rightful supremacy of nature.
Humans always plan landscapes with these considerations. At Windekind we try especially hard to create an information rich and hearty ongoing dialogue and make it work in practice.
Come join in and be part of our colloquy.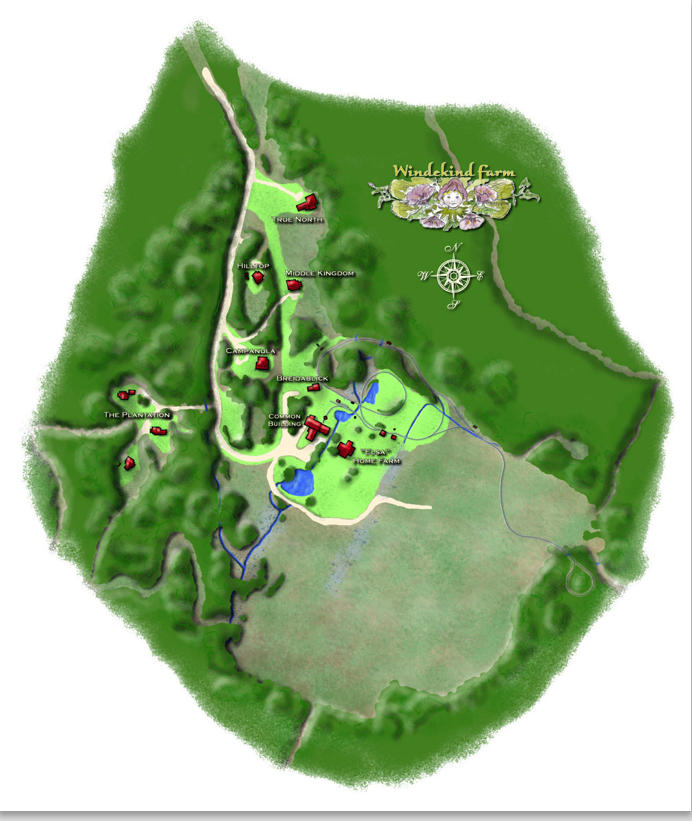 More design Details:
The artistic rendering on the left helps us focus more carefully on details. Our approach is guided by the following:
To maximize social connectivity while protecting family and individual privacy,

To maximize the potential for sunlight and therefore energy efficiency because of our southern exposure,

To utilize the natural diversity (the built environment, the meadow, wetlands, forested areas, ponds, the mountains and wetlands) to provide an exceptional view.

To create a layout that provides for the most efficient and cost effective infrastructure, to search for ways by using unified construction to reduce cost for new buyers including the possibility of constructing new buildings similar in design.

To insure that there are ample provions for family gardens, landscaping and home business on private parcels while at the same time providing ample space for community based projects and social interaction.

To insure that landscape provided ample opportunity for individual and Community creativity balanced by our Design Standards and community consensus.
As our design has evolved we have noted the emergence of patterns. The most significant of which are the following:
The integration of Common Land throughout the residential community. This approach encourages the use of pathways within the community that connects its different areas and therefore encourages social interaction and the use of nearby common spaces for community purposes like shared gardens, landscape projects, ponds and professional spaces. Yet, Common space can enhance privacy because natural features like forested area, rock out cropping, steams, wetlands and steep slopes provide for more secluded spaces.

The Development within the Community of neighborhoods within the lager neighborhood. The Farm's landscape diversity, evident in all its areas, is also very evident within the its residential areas.
For example, The Farm House, the Studio, the Railroad Shop, Breidablick and Campanula tend to naturally organize themselves around the lawns, the Meadow, the stream and pond. This is a cluster within a cluster connected by pathways and roads located in the midst of the Farm's historic lawns and gardens while being home port to our cozy rail operation. All this, while providing all sorts of opportunity to the built environments above and across the road to the Plantation.
The area above Breidablick and Campanula and to the East of the town road contains three higher lots that simultaneously organize themselves around a larger expanse of Commons land between them, a brook to the East and the buildings, lawns, gardens and meadow below. Families in this area enjoy the diversity that comes with this very varied landscape forming a tight knit group of homes organized around a commonly owned green augmented by the bigger and larger meadow and mountain landscape below. Families in these areas will also have direct access to serene woodland brook below and to a woodland trail that weaves its way above the railroad and then enters the northeast corner of the historic lawn system that is also designated common land with ample provisions for community gardens and gatherings.
Because this is the most northern portion of the residential area we have named the area "The North End,"
Across the town road, in the most western portion of the residential area is the third cluster within a cluster. The most prominent feature in this area is a maturing stand of Norway Spruce with some tress in excess of 100 feet tall and up to three feet in diameter. Because of the mature forest and a relatively flat area in the center of the area with a stream, rock out cropping and the meadow beyond the area lends itself to a tighter cluster of buildings with their own common area between then and below. Because of this tighter cluster we think design can be more unified contributing to a sense of a forested neighborhood while saving on homeowner costs.
An ideal scenario for this area is that three families come together and decide to invest their time and money on developing their own unifying design while reaching out and determining how that fits into a larger Common.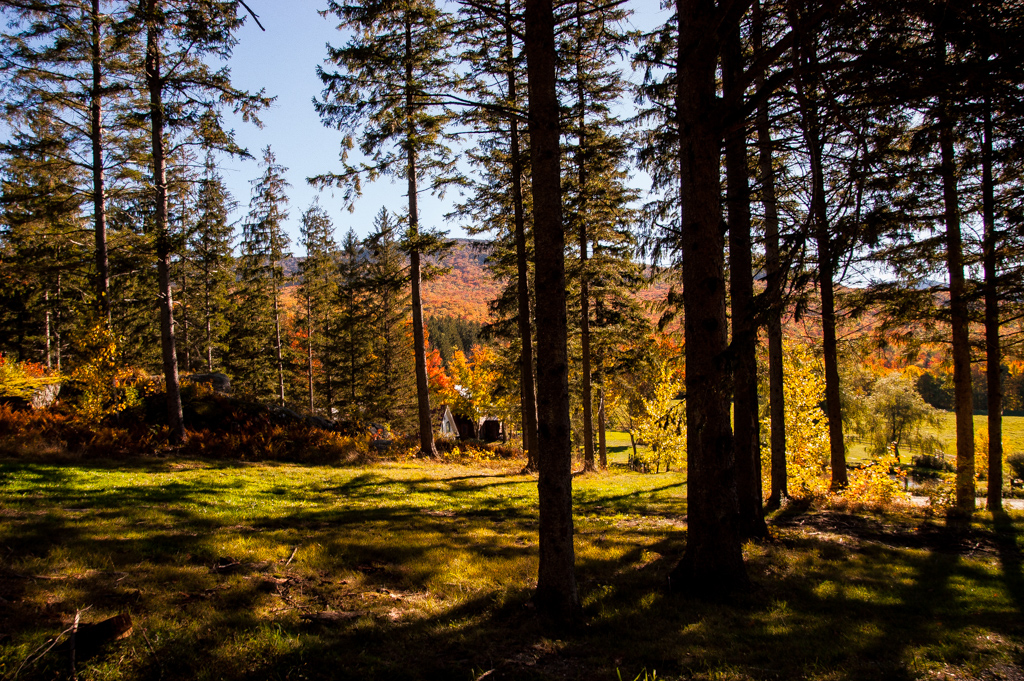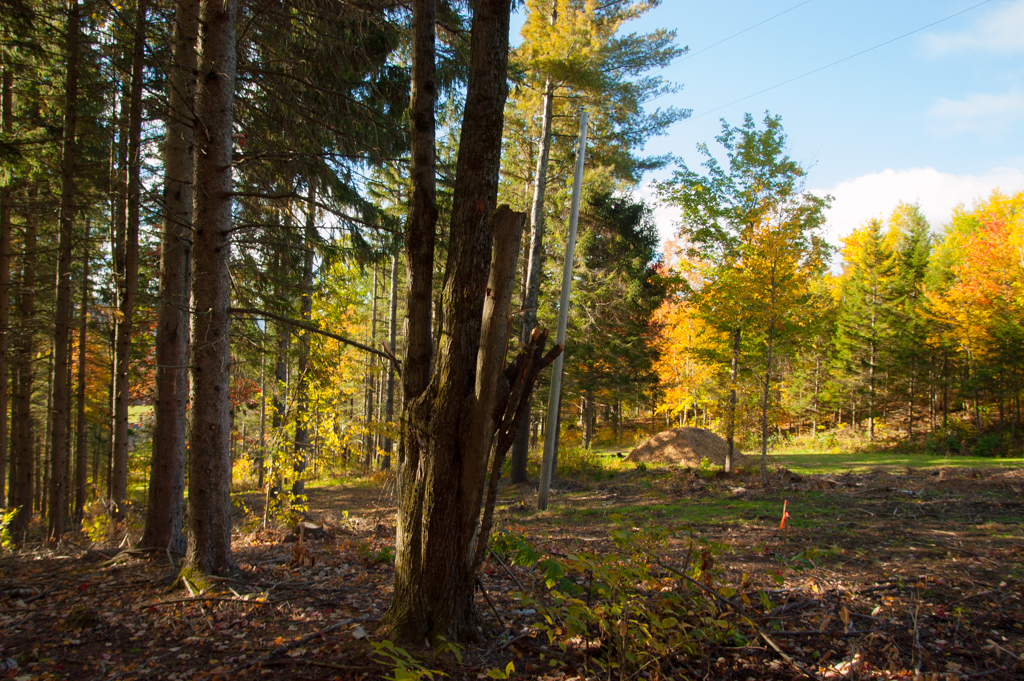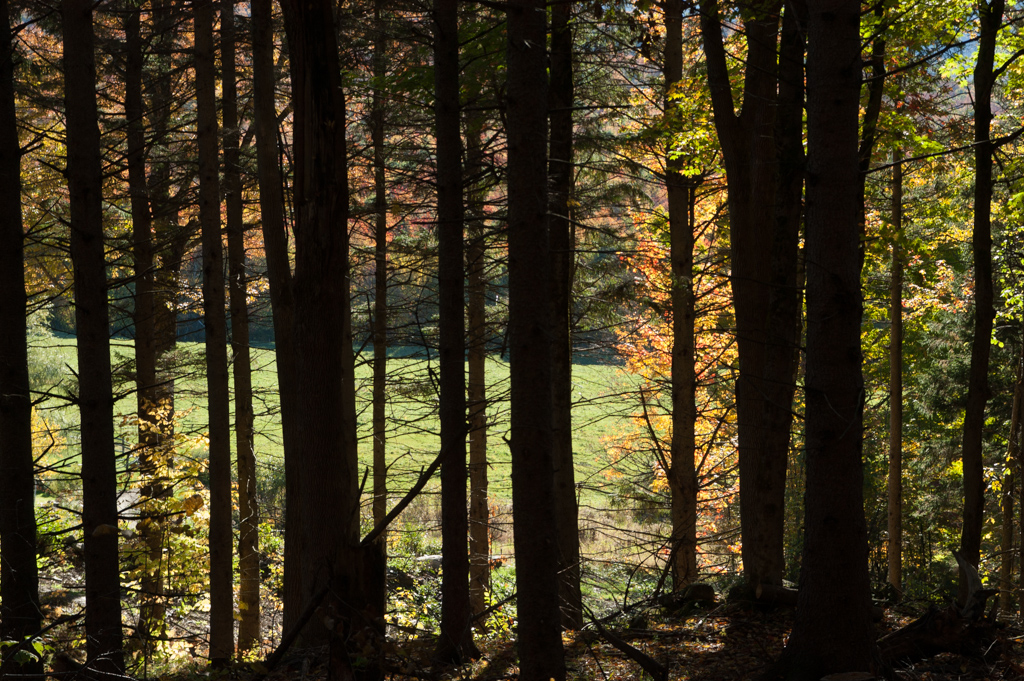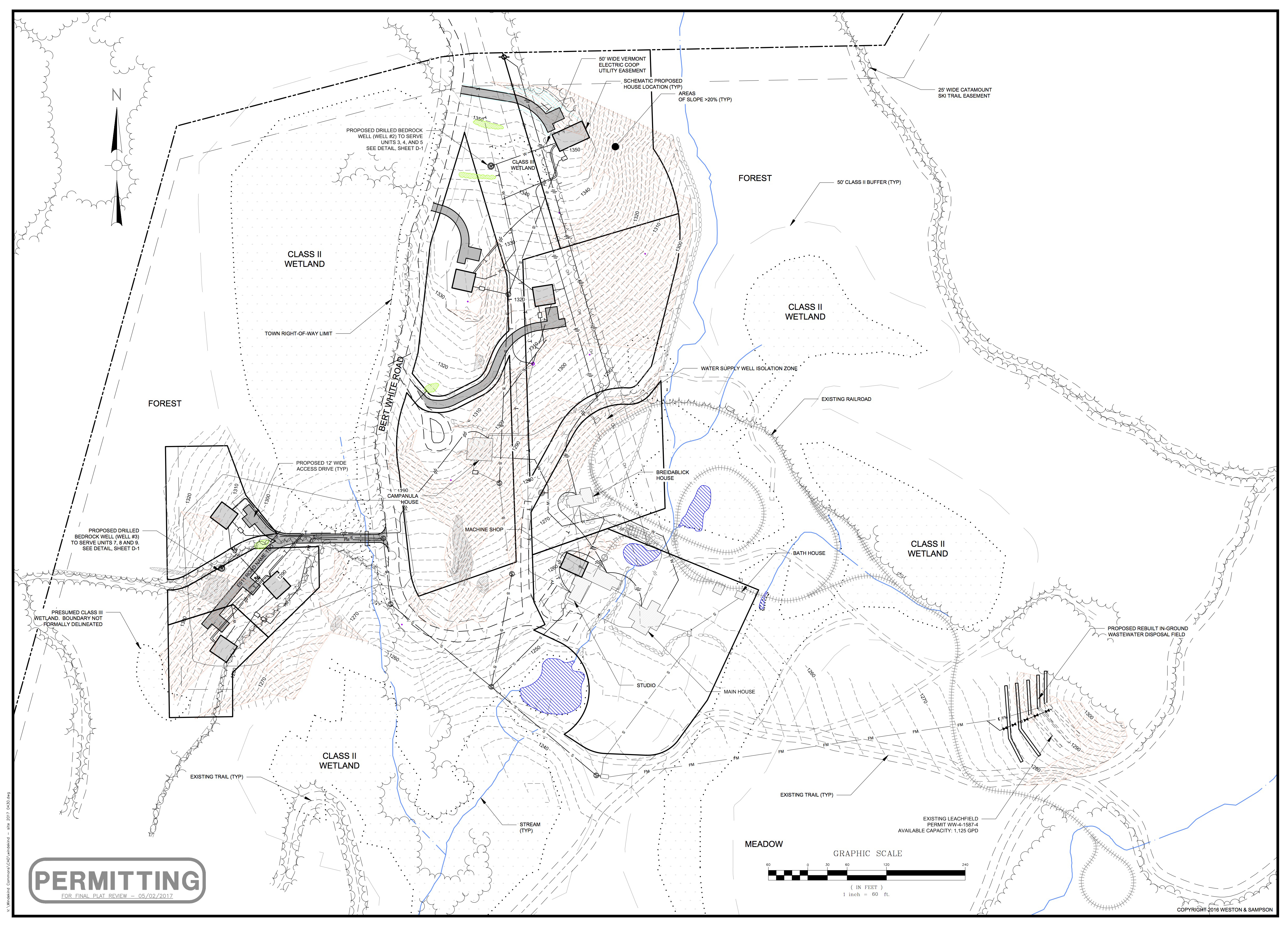 As part of our whole system design we embrace engineering and technology, led by Shane Mullen with Weston & Sampson of Waterbury. This is the sharp and precise edge of our planning and design that runs parallel with our ecological  designs led by Arrowwood Environmental of Huntington. With an eye on costs, efficiency, performance and ecology we have created an engineered landscape that meets high technical standards while merging with our broader principles of social ecology.
This has been done with the help of certified engineers, planners, architects, energy experts, ecologist, landscape designers and members and perspective members of the project.  We have focused, utilizing a whole system design approach, on water supply, septic, power, net zero, wind and solar applications, construction techniques, bio mass heating, roads and drive ways, internet and phone.
The process is productive and fruitful and in some cases lead us to use some nifty new age technology for an old landscape.
If you study the map in detail you will see the systems that we use. Septic, for example is an integrated network that connects each house to a central pump station and then to an existing field located on a sandy knoll in the meadow. We will use innovative "grinder pumps" that reduce impact on the land and reduce costs and maintenance.
Come see our systems.
Read about our Design Standards