Breidablick Cottage
A sturdy and elegant place to be
Created to honor a Scandinavian heart.
We are very happy to write that Breidablick has been sold to Elizabeth Bicknell, of Somerville, Ma. This means a great future for this much beloved building and the gaining of a great new neighbor.
Intimate
Carl Larsson (28 May 1853 – 22 January 1919) was a Swedish painter representative of the Arts and Crafts Movement. We have always loved his renderings of intimate family life set in the Swedish countryside. Breidablick more than any other building at the farm reflects his style. (Carl Larsson)
Breidablick's foremost interior feature is the living room. Once the blacksmith shop, the room's most unique feature is the cathedral ceiling spanning up to a windowed copula 23 feet above the wide oak floors. During the day, the room dances with natural light streaming in though its many south facing windows and a pair of French doors that open out to a stone patio. It is a lovely room with the stone forge still in working condition, wide board oak floors, wainscoting and other trims details.
Breidablick's kitchen faces south with the big views of the gardens, the ponds and the meadow. It is a large and robust space well equipped with modern appliances and a complete set of cooking utensils, along with all the flatware and table settings. Adjoining the living room, it is a perfect setting for family gathering, engaged cooks and reading and computer work.
Durable
The living room has a hand hewed frame  that we then added 4" of foam board insulation on the side wall and 6" on the ceiling. High quality double pane windows are used throughout meaning that Breidablick is easy and inexpensive to heat in the winter and cool in the summer with ample cross ventilation that allows mountain breezes to cool the building.
We heat with an effient Rinnai propane heater and an efficient Vermont Castings' wood stove that vents to the forge chimney. As part of a sales agreement we will upgrade the wood stove to a newer and more efficient model for log or pellet burning. Hot water is generated by an Eco Smart, on demand, electric hot water heater.
Wainscoting chair rail trim is used thought out the building, even in the bathrooms. this means, in addition to its aesthetic contribution, more durable walls that stand the impact of day to day use. The floors are wide board, pine in the upstairs bed room and oak on the first floor and the bathrooms have tiled floors.
The standing seam room is copper, it will last, with little or no maintenance, for many generations. The siding is spruce clapboards; it requires painting at four of five year intervals.
Breidablick's main bedroom, following principles of Scandinavian design,  has lots of light and spectacular views North and South. It is,  in our view,  the best bed room at the farm a cozy and very private space that embraces its occupants. It adjoins a full bathroom with both shower and tub options. It also has a little balcony that overlook the living room below. 
Breidablick has excellent internet service and access, including the ability to down load movies and news programs. Located next to the stone forge that is still operable, this snug area is an ideal space to get computer work done and enjoy the company of others.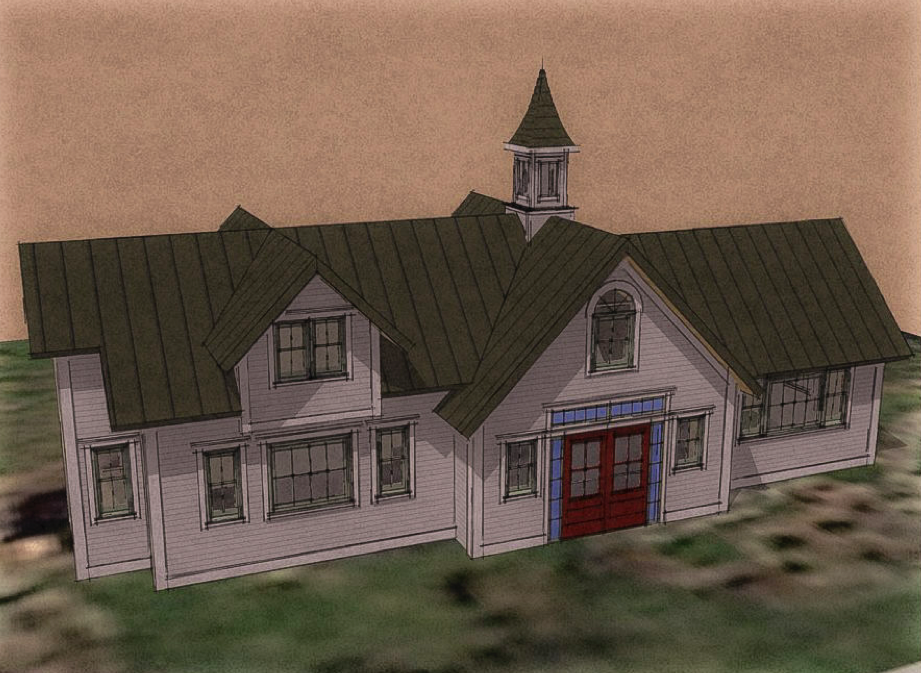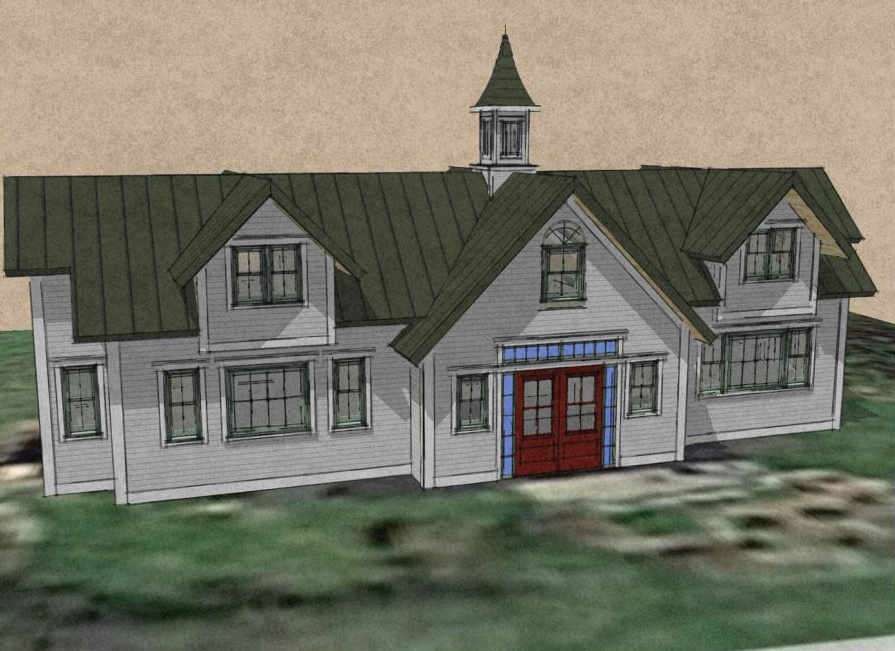 The two images of Breidablick depict and one and two story options for additions , each story adds about 300 square feet to the building. A basement can also be put under the addition bringing in another 300 square feet. The two story version would allow another 300 square feet bring the grand total to 900. Depending on which  versions of additions the total square footage could end up being between 1500 and 1900. We also calculate that additions can be built for about $200.00 per square foot and we are willing as part of a sales agreement include a finished addition at a set price.
Theses addition, would make Breidablick ideal for family of three or four or for a couple, without children who seek space for a studio or a study along with more bedroom and storage capacity.The additions can be added as family needs change, for example more children.
A smaller addition off the kitchen is also an option. We also like the idea of using the little pocket space across the Railroad for a structure that could house a studio, bedroom or be home for a small business.
Breidablick is a thoughtfully crafted post and beam cottage with a copper roof. The purchase price was $280,000 and that includes the one-acre parcel that the building sits on and a 1/9th share of the 132-acre Common Land.  This addition, would make Breidablick ideal for family of three or four or for a couple, without children who seek space for a studio or a study along with more bedroom and storage capacity.